This advertorial is sponsored by Cook Medical. A downloadable version can be found here.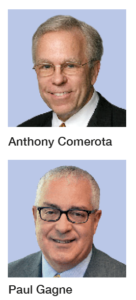 The Zilver Vena venous self-expanding stent system (Cook Medical) is associated with high rates of patency by ultrasound, freedom from clinically-driven reintervention and clinical improvement among various challenging subgroups, according to newly released three-year subset data from the VIVO clinical study.
Anthony Comerota (Inova Heart and Vascular Institute, Inova Alexandria Hospital, Alexandria, USA) just delivered these key findings—which complement a strong set of data on the safety and effectiveness of the Zilver Vena venous self-expanding stent system—at the American Venous Forum (AVF) 34th annual meeting 2022 (23–26 February, Orlando, USA).
Main outcomes from the VIVO clinical study
The Zilver Vena venous stent, which received a CE mark in 2010 and US Food and Drug Administration (FDA) approval in 2020, is designed to meet the needs of patients suffering from symptomatic iliofemoral venous outflow obstruction.
Initiated in 2013, the VIVO clinical study of the Zilver Vena venous stent met its 30-day primary safety endpoint and 12-month primary effectiveness endpoint—exceeding the corresponding performance goals (p<0.0001)—and demonstrated improvement in clinical outcome measures at 12 months (p<0.0001).
One-, two- and three-year datasets have been presented at key conferences since 2020. Most recently, Paul Gagne (Vascular Care Connecticut, Darien, USA) revealed three-year data from the VIVO study at Vascular Interventional Advances (VIVA) 2021 (5–7 October, Las Vegas, USA), informing attendees that results observed at 12 months were maintained.
Subanalysis yields "excellent outcomes" in all categories
"The patency data are excellent," Comerota summarises, highlighting that there were no stent fractures observed through three years across various lesion types. He adds that only one patient had migration of the stent, and it was "well recognised" that this was due to undersizing, Comerota remarks, "so it was operator error".
Speaking to Venous News in the light of Comerota's AVF presentation, Gagne echoes the presenter's summary: "The VIVO three-year subset data show excellent outcomes in all categories of stenting for reconstruction of the deep venous system, independent of the underlying pathophysiology."
Comerota detailed at AVF that the 243 patients enrolled at 30 investigational sites between December 2013 and October 2016 were categorised into three subgroups: patients with post-thrombotic syndrome (PTS; 43%, n=105), those with non-thrombotic iliac vein lesions (NIVLs; 33% n=79), and those with acute deep vein thrombosis (aDVT; 24%, n=59). The presenter reported that the three-year patency rate by ultrasound was 90.3%, with individual rates being 86.1%, 100% and 84.0% for the PTS, NIVL and aDVT groups, respectively. Similarly, three-year rates of freedom from clinically-driven reintervention were similarly high, Comerota communicated, noting figures of 87.1% in the PTS group, 100% among the NIVL patients, and 92.1% in the aDVT group.
Addressing the AVF audience, the presenter added that each patient group also reported sustained clinical improvement from pre-procedure through three years as measured by the Venous Disability Score (VDS), Clinical-Etiological-Anatomical-Pathophysiological (CEAP) "C" classification and Chronic Venous Insufficiency Quality of Life Questionnaire (CIVIQ). In addition, Comerota relayed that the patients had significant improvement in their quality of life, which he stressed is "the most important endpoint as far as the patient is concerned".
Outcomes maintained in "particularly challenging" groups
Even the "particularly challenging" PTS and aDVT patients—in whom Gagne points out technical success, prolonged and durable reconstructions, and improvements in patients' lives can be elusive—did "very well".
He underscores in particular the impressive rates of freedom from clinically-driven reintervention in these groups—87.1% among the PTS patients and 92.1% in the aDVT cohort. "We know that, in order to effect these [deep venous] reconstructions, we induce an element of inflammation and stir up the thrombotic cascade in these patients. The fact that, through a combination of technique, device and medical therapy, we can achieve such high freedom from reintervention, is good for our patients who may be happy to have one intervention, but are less excited when we have to do two or more interventions."
Comerota delves further into the complexity of these patients, identifying the PTS cohort as a "very high-risk subgroup"—at high risk for failure and high risk from thrombosis—and highlights that 39% presented with occlusions.
He also references the fact that the PTS patients had "very long lesions". While the mean lesion length of the total patient population was about 10cm, he specifies that this ranged from about 6.5cm in the NIVL group to 12.5cm among the PTS patients.
Results bolster intervention below inguinal ligament
In the VIVO study, 32.5% of patients had stent extension below the inguinal ligament and there were no stent fractures reported. Comerota calls attention to a noticeably high percentage of patients (54.3%) in the challenging PTS group with stent extension below the inguinal ligament—a fact that did not inhibit strong outcomes, he stresses.
Based on these new subset results, Gagne says "physicians should not feel hindered in extending their stents below the inguinal ligament. Freedom from stent fracture should reassure interventionalists that they can [intervene below the inguinal ligament] and pursue technical success. Technical success seems to be the most important prognostic indicator of whether the patients are going to be free from reintervention and have a durable clinical improvement".
High patency rates and flexibility set Zilver Vena apart
Reflecting on how these new subset data differentiate the Zilver Vena venous stent from other dedicated venous stents, Gagne comments: "These new VIVO data have distinguished the Zilver Vena as a top performing stent in the market through high rates of patency and no stent fractures."
In addition, he states that the durable patency across many pathologies, including below the inguinal ligament, has differentiated the performance of the Zilver Vena venous stent against some of the legacy stents that have been used over the years.
Disclaimer: Anthony Comerota and Paul Gagne are paid consultants of Cook Medical. Some opinions expressed may represent those of the physicians and are based on their own clinical experience in their practice. Results may vary in human use. Zilver Vena is a registered trademark of Cook Medical. Always refer to the Instructions For Use (IFU) for complete prescribing information including indications for use, warnings, precautions, adverse events, and deployment/use instruction. To view the IFU and intended use for the Zilver Vena venous stent, please visit your respective regional Cook Medical website at cookmedical.com
Zilver Vena® Venous Self-Expanding Stent
CAUTION: U.S. federal law restricts this device to sale by or on the order of a physician (or properly licensed practitioner).
INDICATIONS FOR USE: The Zilver Vena® Venous Stent is indicated for improving luminal diameter in the iliofemoral veins for the treatment of symptomatic iliofemoral venous outflow obstruction.
CONTRAINDICATIONS: The Zilver Vena Venous Self-Expanding Stent System is contraindicated for use in: • Patients who are judged to have a lesion that prevents complete inflation of a balloon dilatation catheter or proper placement of the stent or the stent delivery system. • Patients who cannot receive intraprocedural anti-coagulation therapy.
WARNINGS: Nitinol (nickel-titanium) may cause allergic reactions in some patients. • The device is designed for single use only. Attempts to reprocess, re-sterilize, and/or reuse may lead to device failure and/or transmission of disease. This may also increase the risk of contamination. • Sterile if package is unopened and undamaged. Do not use the product if there is doubt as to whether the product is sterile. Inspect the product to ensure no damage has occurred. • This device is a permanent implant. • Selection of inappropriate stent diameter and length based on lesion and vessel characteristics could lead to stent migration. It is important to select the appropriate stent size after a complete diagnostic evaluation. As described in the Stent Selection section, the diameter of the stent should be oversized 1-4 mm with respect to the estimated vessel diameter and the length of a stent(s) should cover the length of the lesion and secure adequate wall apposition in the adjacent normal vein (the stent should extend 5-10 mm into adjacent normal tissue). Stent migration may be more likely to occur in Non-thrombotic lliac Vein Lesions (NIVL). For common iliac vein lesions, extension of the stent into the external iliac vein may enhance wall apposition. Stent migration or stent movement could also result from a deployment that does not result in a fully expanded stent. Post-deployment dilatation along the stent length may enhance wall apposition. Attention to the post stent deployment venogram and other imaging modalities as appropriate is important.
PRECAUTIONS: This product should only be used by physicians trained and experienced in diagnostic and interventional vascular techniques. Standard techniques for interventional vascular procedures should be employed. • Manipulation of the Zilver Vena Venous Stent requires high-resolution fluoroscopic control. • Do not use power injection systems with the delivery system. • Prior to the procedure, the patient's underlying condition should be assessed for compatibility with anticipated procedural and post-procedural antiplatelet/anticoagulation therapy. • Use in patients with a history of contrast sensitivity is not recommended unless the patient can be adequately premedicated.• Safety and effectiveness of the Zilver Vena Venous Stent for use in the arterial system has not been established. • When more than one stent is required, resulting in stent-to-stent contact, stent materials should be of similar composition to avoid the possibility of dissimilar metal corrosion. • The potential effects of phthalates on pregnant/nursing women or children have not been fully characterized and there may be concern for reproductive and developmental effects. Stent Handling • Do not attempt to remove the stent from the delivery system before use. • Do not expose any part of the delivery system to organic solvents (e.g., alcohol). • Use the stent system prior to the expiration date specified on the package. Stent Placement • Ensure that the safety lock is not inadvertently removed prior to stent release. • Do not rotate any part of the system during deployment. • Repositioning of the device once deployment has begun (i.e., the stent markers begin to flower) is not possible because the outer sheath cannot be re-advanced over the stent. • Repositioning of the delivery system to the intended deployment location can be carried out up until the stent markers begin to flower. • If excessive resistance is felt when beginning deployment, do not force deployment. Remove the delivery system without deploying the stent and replace with a new device. • Ensure the handle remains in a stabilized position while deploying the stent. Tension to remove the slack outside the patient's body should be applied; however, do not apply excessive tension on the system as stretching of the stent may occur. • Once stent deployment has begun, the stent must be fully deployed. Stent/System Removal • Do not advance outer sheath after stent has been deployed. Delivery system can be removed without the need to recapture tip. Post Implant • Antiplatelet/anticoagulant therapy should be administered during and after procedure according to institutional standard of care. • Use caution when re-crossing a stent to avoid stent damage or migration (i.e., the use of a balloon has the potential to get caught).
POTENTIAL ADVERSE EVENTS: Potential adverse events that may occur include, but are not limited to, the following: • Abdominal or back pain • Abrupt stent closure • Allergic reaction to anticoagulant and/or antithrombotic therapy or contrast medium • Allergic reaction to nitinol (nickel-titanium) • Amputation • Aneurysm • Arrhythmia • Arteriovenous fistula • Bleeding associated with anticoagulation • Death • Embolism • Fever Hematoma/hemorrhage at access site • Hypersensitivity reactions • Hypertension • Hypotension, nausea or symptoms of a vasovagal response • Infection/abscess formation at access site • Intimal injury/dissection • Myocardial infarction (MI) • Pseudoaneurysm formation • Pulmonary embolism • Renal failure • Restenosis, occlusion, or thrombosis of the stented vein • Septicemia/bacteremia • Stent malapposition • Stent migration or embolization • Stent strut fracture • Stroke • Tissue necrosis Vasospasm • Vessel perforation/rupture • Worsened pain
See Instructions for Use for full product information.
AB_IFU0091_REV3