Alun Davies is a Welsh-born leading expert in the venous field, one of the Editors-in-Chief of Venous News, and currently in the spotlight as chief investigator of the EVRA ulcer trial. In this profile, Davies talks about the implications of the trial, the greatest developments and disappointments during the course of his career, and the story of a patient whose wife had to leave to water the plants for the Royal Family.
Why did you decide you wanted a career in medicine, and what led you to the vascular and venous fields?
When I was at school, I wanted to be either a priest, lawyer or doctor. My family doctor was great and used to give children miniature Cadbury chocolates—this may have been the turning point—but more likely it comes down to the fact that sciences were my stronger suit. Once I started in Cambridge, I found that anatomy was a great subject and decided that surgery was the option for me.
When I moved over to Oxford to do my clinical training, I met an exceptional group of clinicians who were surgeons and great teachers. Having become the Professorial Surgical Houseman in Oxford working for Professor Peter Morris, I confirmed my intent to do general and vascular surgery. My subsequent career developed, with stints in Oxford, Cambridge, Plymouth (all UK) and Boston, USA, before moving to London back in the UK.
I chose to specialise in the vascular and venous field because my thesis work was on femoro-distal bypass and vein quality, for which I subsequently was awarded a Hunterian Professorship. I have had both arterial and venous research interests, and one great achievement has been to support a number of trainees with their clinical and research training.
Who were your most important career mentors and what wisdom did they impart to you?
I have had many people who have supported my vascular endeavours. One surgeon whose wisdom does stand out, particularly as I age, was a consultant who was the lead on my first surgical firm, examined me in finals and whom I had the pleasure of working for at the urology registrar. "Alun," he told me, "the best bit of surgery is your relationship with the patient, as everyone is able to offer surgery."
What has been the biggest development in venous medicine during the course of your career?
The major change has been the development of duplex imaging in the management of patients with venous disease. From a treatment perspective, the new endovenous techniques—initially in the form of endothermal ablation—are a big development in the field.
What has been the biggest disappointment?
Unfortunately, I would say it is the lack of progress on the development of a valve to treat deep vein incompetence. The other disappointment is that despite all the new endovenous treatments, the recurrence rates after interventions seem to be the same.
You are the chief investigator of the EVRA trial, which showed that early ablation of superficial venous reflux results in faster healing of venous leg ulcers. How you see these results affecting current practice?
The results will hopefully empower providers and patients via guidelines and education and ensure that patients who present with a leg ulcer will be referred for early assessment including duplex, as well as for endovenous ablation to be offered within two weeks if suitable.
Given that this is a UK study, do you think the results will have an impact in practice outside of the UK?
The results will have a global impact, as there has been an ongoing debate on the timing of venous intervention in patients with leg ulcers, specifically whether intervention should occur when the ulcer is open or healed. This discussion was fuelled by the ESCHAR trial, which showed benefit of intervention only in terms of leg ulcer recurrence. One would hope that the results of the EVRA study will cause much stronger recommendations in the Society for Vascular Surgery (SVS) and American Venous Forum (AVF) guidelines.
How does it feel to have had your research published in the New England Journal of Medicine?
Obviously, it is great and I feel very privileged. This has been a mass undertaking by a large number of individuals, many of whom I do not know personally. So I would like to say a big thank you to all involved as well as to the patients.
What is next for you in your research?
We have been fortunate to have funding from the National Institute of Health Research (NIHR) to follow up the EVRA cohort of patients, so we hope to present three-year recurrence rates in 18–24 months' time.
There are numerous other ongoing studies, one for example is evaluating the benefit of neuromuscular electrical stimulation in claudicants, while another study is evaluating whether there is any adjuvant benefit in wearing compression stockings for patients receiving low molecular weight heparin for deep vein thrombosis prophylaxis.
What is the most interesting paper or presentation that you have seen recently?
The ATTRACT trial, as this study has raised many questions regarding how we should proceed with patients who need venous thrombolysis.
The Royal Society of Medicine Venous Forum released a guidance document earlier this year on the management of leg ulcers. What is the importance of this type of guidance and why is it needed?
The need for the document was to reinforce the recommendations of the UK National Institute for Health and Care Excellence (NICE) on leg ulcer management. The need for early referral to a vascular specialist is key, and the document was aimed at educating other healthcare professionals, commissioners and the public to ensure this cohort of patients care is improved, as it is a significant healthcare burden.
What was the proudest moment in your career to date?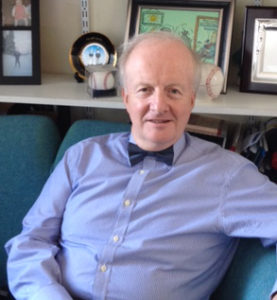 My proudest moment thus far was probably when I was a trainee, being awarded a Hunterian Professorship of the Royal College of Surgeons, and delivering the subsequent lecture to my colleagues and family at the London Vascular Debating Society.
What three questions in venous medicine still need to be answered?
1. What is the role of deep venous stents?
2. Is there a need for a deep venous valve?
3. How can we stop the progression of venous disease?
Could you tell us about one of your most memorable cases?
I once had a patient with a ruptured abdominal aortic aneurysm who needed traditional repair. The patient's wife was the royal florist, and she had to leave her husband in the hospital to go and do the royal flowers. The patient made a great recovery, and a year later I was invited to be the guest of honour as they hosted a "great to be alive" black tie dinner at the European Academy of Arts, near Buckingham Palace.
What advice do you hope your mentees and students will always follow?
If you do not enjoy your job, do not do it. Medicine is a great privilege.
What are your interests outside of medicine?
I greatly enjoy good food—both cooking and eating—and wine tasting is also something I appreciate. I like to travel when I can, often enjoying the architecture of churches and other buildings, and especially to go skiing or to relax on a cruise. As a Welshman living in England, I also of course love all things Welsh—including the Wales RUFC rugby team.
Fact file
Current appointments
Professor of Vascular Surgery and head of Academic Section of Vascular Surgery, Department of Surgery & Cancer, Imperial College School of Medicine, Charing Cross & St Mary's Hospital, London, UK
Honorary Consultant Surgeon, Imperial College NHS Trust and Chelsea & Westminster NHS Trust, London, UK
Clinical Director of Imperial Private Halth Care (NHSPPU), London, UK
Education (Selected)
2014 DSc, University of Oxford, Oxford, UK
1994 Certificate of Specialist Training (European Community)
1993 DM, University of Oxford, Oxford, UK
1992 MA, University of Oxford, Oxford, UK
1985 MA, University of Cambridge, Cambridge, UK
1981-84 BM BCh. Clinical Studies, University of Oxford Medical School, Oxford, UK
1978-81 BA, University of Cambridge, Cambridge, UK
Awards (selected)
2018 Medal of Distinction for Education UIP
2015 Lifetime award Australasian College of Phlebology
2011 Order of Phlebology Medal for excellence in clinical research
2003 European Venous Forum Prize
2002 Fellow of the Society of Vascular Medicine and Biology
1993 Hunterian Professor, Royal College of Surgeons England
Society affiliations
Fellow of the Royal Society of Medicine
British Medical Association
European Society of Vascular Surgery
European Venous Forum
Surgical Research Society
Fellow Association of Surgeons of Great Britain & Ireland
Society of Academic Surgeons
American Institute of Ultrasound in Medicine
International Society of Cardiovascular Surgery
Vascular Surgical Society of Great Britain & Ireland
American Venous Forum
British Association of Atherosclerosis
Society of Vascular Medicine & Biology
European College of Phlebology