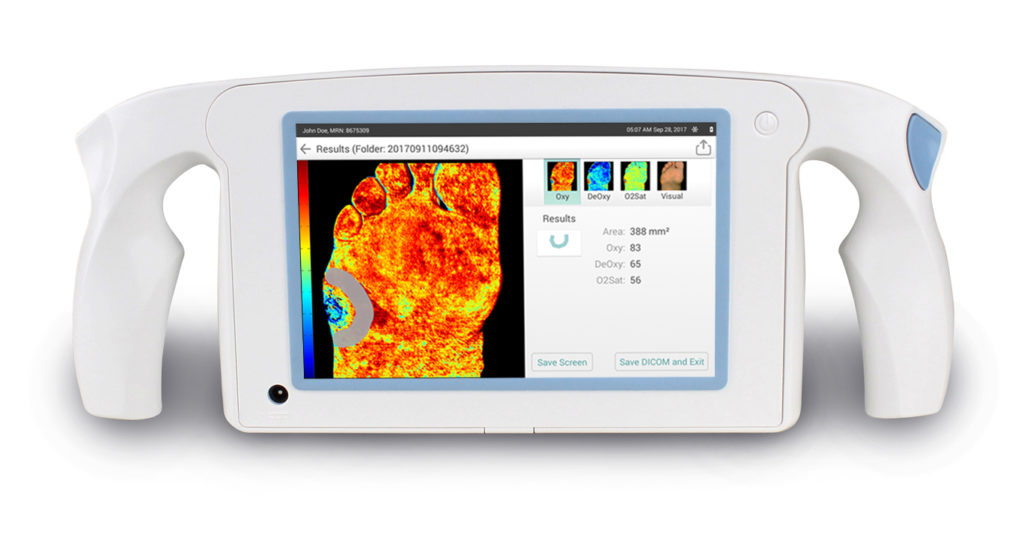 The handheld medical imaging system HyperView (HyperMed Imaging) has received CE mark, allowing for distribution in Europe. The system is designed to detect perfusion of superficial tissue in support of wound care.
The HyperView System is a fast, handheld, battery operated, non-invasive and portable diagnostic imaging device that is used to assess tissue oxygenation without contacting the patient. The system uses proprietary technology to capture a diagnostic image containing data for oxyhemoglobin levels, deoxyhemoglobin levels and oxygen saturation in superficial tissue. Published literature has demonstrated that HyperView may assist the clinician in determining if a wound has adequate blood perfusion to heal. Likewise the clinician can assess if a vascular intervention or additional therapy is needed to improve perfusion.
HyperMed Imaging is currently already distributing its product in the USA.
Mark Darty, the company's president and CEO states, "Receiving CE Mark for our HyperView product is a major milestone in our global commercialisation efforts and we look forward to launching sales in the European market this year. HyperView is a leap forward in non-invasive assessment of vascular perfusion and tissue oximetry. HyperMed will have a marketing presence at vascular, wound care and reconstructive surgery conferences in Europe this year. We look forward to engaging key opinion leader medical professionals throughout Europe for the introduction of our class leading product and technology."
Bauer Sumpio, Yale Medical School professor of Surgery, Radiology and Medicine comments, "The HyperView product provides significant benefit in determining regional foot perfusion adequacy in vascular compromised patients. It is fast, easy and provides reliable diagnostics in comparison to existing standard of care devices. Endovascular surgery, wound care, and reconstructive surgery are all important areas which could benefit from use of the product. Its use as a screening tool prior to vascular interventions or various wound healing therapies can document the need for the procedure and its use post procedure can document the success and effectiveness of such procedures."
HyperMed Imaging is a privately owned medical device company located in Memphis, USA focused on vascular imaging, and notably uses visible hyperspectral imaging for assessment of tissue oximetry in the superficial capillary bed. The use of visible light hyperspectral technology as opposed to use of near infrared light, the company explains, is to avoid mixing data from subcutaneous arteries and veins with that from the superficial capillary bed where oximetry data is different. The technology therefore allows for consistent readings on which perfusion adequacy levels can be assessed. The company currently holds over 60 issued patents and more than 40 additional patents pending worldwide in advanced hyperspectral medical imaging.