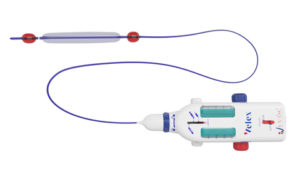 I-Vasc, developer of the Velex device with its empty vein ablation (EVA) technology for the treatment of chronic venous insufficiency (CVI), has announced the completion of its Series A financing round.
In addition to the €750,000 tranche raised in the first half of 2021, the company notes that it raised another €1.066 million tranche before the end of last year, for a total amount of €1.8 million in 2021.
According to a company press release, the proceeds from this round will be used to pay for postmarket clinical studies of the Velex device, to move toward US Food and Drug Administration (FDA) regulatory approval for the US market, and consolidate industrialisation throughout a supply chain of qualified suppliers. The Velex device received CE mark approval for the European market in May 2021.
The company has also announced the appointments of two new directors in its board to reinforce its management team in this phase of strategic growth: Daniele Zanotti, who has assumed the role of CEO, and Cristiano Fontana, who has undertaken responsibility for business development, marketing, and communication. Mario Salerno, founder of I-Vasc and inventor of the EVA technology, will retain his active executive role and the functions of chairman of the board and president, while Emilio Roncoroni and Attilio Castelli from the previous board, will continue to exert their roles of chief administration and chief technology officers, respectively.
"I am thrilled to embrace this new professional adventure and put my experience at the service of a project which has the potential of representing a new paradigm in the largely underserved market of CVI and varicose vein. With the considerable efficacy, safety, and usability improvements that Velex can offer with respect to all alternative methods, we have the opportunity to offer a better option to millions of patients and create a huge new value in the vascular arena," said Zanotti.
"We are approaching a new and important phase of the project, which I started in 2015. Thanks to the investors, who have believed in our proprietary and innovative technology, and to our reinforced team, we are now on the verge to bring Velex into the market and provide proof of the validity of our EVA procedure," said Salerno.